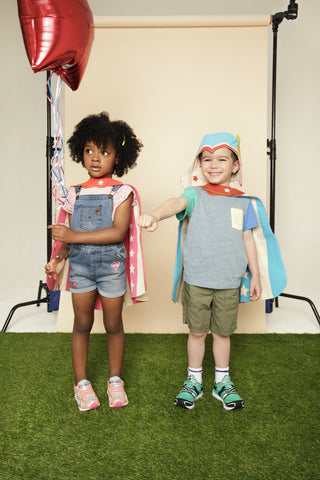 Our Story
Tsukihoshi's Story
It all began in 1873 when two humble shoemakers, Unpei and Moto Kurata, opened a shop with one goal in mind: to make the perfect "Tabi Shoes." These traditional Japanese sock-shoes have split toes allowing your feet to flex freely and maintain tactile contact with the ground as if barefoot, offering ideal conditions for healthy feet.
The Moon & Stars Above
Unpei and Moto worked tirelessly, often laboring past sunset to improve and perfect their shoemaking art. Late at night, they would look up to the moon and stars shining above for courage, strength and inspiration.
When it was time to introduce their shoes to the world, they named their company Tsukihoshi (ski-ho-shi), or "MoonStar," as a tribute to their muses in the sky. The "double circle" used in the Tsukihoshi logo visually depicts Unpei and Moto's story.
Tradition & Innovation
For over 140 years, Tsukihoshi has continued to perfect the art and craft of shoemaking that originated with Tabi Shoes. The company has evolved techniques, technologies and designs through the years, but has remained true to Unpei and Moto's original mission: making comfortable, fun shoes that give your children's toes the freedom to move.
Fun and comfortable shoes that give childrens' toes the freedom to move.
I've spent so much money on shoes, but the Racers are the ONLY sneaker that fits his wide feet!! Thank you for making such a great quality product!"

— Lauren (Instagram)
My son loves your sneakers, they are the only brand he will wear. Plus the fact that Tsukihoshi come in gold for boys is awesome!!

— Amy (Instagram)
I work for a small shoe store and your design and fit is by far my favorite to sell! Great for growing feet and my favorite to recommend! I even have a pair, I'm a children's size 4!

— Kelsey (Instagram)
Hi! We were told our daughter needed shoes to help her arches at her last doctor visit... after searching for the perfect shoes we found yours. She loves them!

— Anne
I've been buying my younger 2 kids Tsukihoshi Shoes for 7 years. Mako is my son's go-to style. The rainbows are AMAZINGLY! For my daughter, it's been Marina. We LOVE the thin grippy flexible soles…

— Colleen
While my little one might be totally in love with the colors of her new @tsukihoshi_us shoes, this momma loves the fact that these shoes are lightweight, machine-washable, have an anti-bacterial sole and are pedorthist friendly!

— Nikki, Instagrammer
I love that [they] are machine washable and super light and flexible around
the toes.

— Jessica, Instagrammer