About
Free Your Toes
With appropriate space around them, toes can maintain a tactile contact with the ground and instinctively grip it, boosting children's sense of balance as they develop.
Moreover, unconstrained toes contribute to a healthy arch development as well as allow soft bones and cartilage to align naturally throughout their delicate growing process.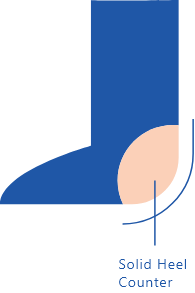 Heel Stabilizer
Whilst toes are free to move, the rest of a child's foot needs great stability to avoid its natural tendency to over-pronate (landing on the arch side).
Our counter stabilizer braces the heel and the foot arch, providing the much needed stability to achieve a proper walking.
Light and Flexible Soles
Our extremely flexible"Flex-Joint Outsoles" are specifically designed to help children's feet to flex, to promote natural movements as well as provide maximum comfort to little feet that are still learning how to bend.
Toes' Freedom to Move
Our generous toe box allows toes to splay naturally, mimic barefoot walking motion and enhance grip and balance.
Machine Washable
Dirty shoes? No problem! Built to withstand repeated washing. Always looking new.
Light and Flexible Soles
Our soles help little feet to flex correctly, while helping promote more natural movement throughout the day.
Firm Heel Stabilizer
Our heel stabilizer supports the heel in a neutral position and protects over-pronation.
Deodorizing Insole
Infused with natural Green Tea extracts.
Easy On and Off
Our shoes feature kid-friendly closures and extra accurate fit adjustment.